Yellow dot
Discover our products with the yellow dot… At Garden Center Grupo Navarro, we have marked hundreds of items at amazing prices with a yellow dot.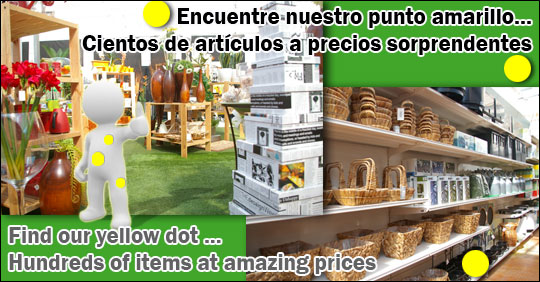 New courses (in spanish)
As in previous months, Grupo Navarro has organized a series of courses for all audiences:
Urban organic garden.
Ornamental Plant Breeding and Propagation
Use of medicinal plants.
Mini gardens.
Bonsái workshops.
Biodiversity in orchards and gardens.
Reproduction and repopulation of native trees.
Nendo Dango.( particularly suitable for parents and children)
Hypertufa.
In addition to the information provided on our website, and in order to make our courses know to a broader public, Grupo Navarro has made some significant changes regarding our information point at La Marina Shopping Mall (1st floor next to Celio).
From August  31 it is an information point exclusively for our courses and workshops. Every Friday and Saturday we will be happy to assist you here personally. You will be able to see demonstrations of various workshops. Do not miss the opportunity,  visit us there. You can also sign-up for our free client card and take advantage of discounts at our Garden Center and get informed through our monthly newsletter.
(Course calendar, Preregistration)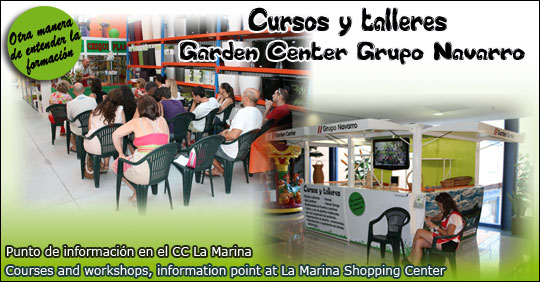 Subsidized course (in spanish)
The companies of "Grupo Hogar y Jardin" have subsidized the course for culinary plants a 100% for all its customers. This means that for all customers of the companies joined in Grupo Hogar y Jardin the course will be free.
Whith the objective to make this course available to the maximum number of students, we have programmed multiple dates and times.
This course aims to teach the students to recognize the most commonly used culinary plants and how to use them. You will learn to make your own preparations, such as macerated oils, aromatic vinegars, herbal blends, sauces etc…
(Course calendar, Preregistration culinary plants course)